We can handle your Motorcycle Transport needs.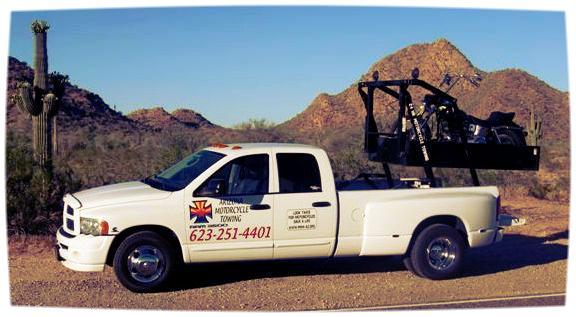 Arizona Motorcycle Towing
provides specialized motorcycle towing services. We expertly handle all Bikes, Custom Choppers & Scooters.
We service Phoenix and the surrounding areas and are the first to use a state-of-the-art hydraulic lift system specifically designed for motorcycles. This system allows us to safely load at ground level. We use the right tools for the job.
Your motorcycle is professionally handled and treated as if it were our own. We use soft straps and have neoprene covers and sheepskin covers to ensure no scratches. We also use the right strapping methods and bar straps depending on your specific type of bike.
We genuinely care about our customers and go above and beyond to provide you with best customer service possible.
We are a Family owned and operated business. We are native Arizonians that have been riding for over 35 years. We understand the worries that bike owners have and when your bike needs to be towed we offer you a professional and worry free option.
Service you can trust at a good value.